Overview

(current)
Tesla Model 3 2020 in Nigeria
The Tesla Model 3 is an electric four-door fastback sedan developed by Tesla.The Model 3 Standard Range Plus version delivers an EPA-rated all-electric range of 263 miles (423 km) and the Long Range versions deliver 353 miles (568 km). According to Tesla, the Model 3 carries full self-driving hardware, with periodic software updates adding functionality. The Model 3 Performance uses two electric motors to produce 335kW of power - the equivalent of 449bhp. That's enough for a supercar-rivalling 0-60mph dash of 3.1 seconds and a 162mph top speed. It is one of the smoothest Sedan in the Tesla Series with a great fuel economy system. In addition, it is sold at an affordable rate and it produces good comfort.
Show More
Do you want to be notified when a new Tesla Model 3 2020 is available for sale in Nigeria?
Enter your email below to receive a notification anytime a new Tesla Model 3 2020 is available for sale from verified dealers in Nigeria.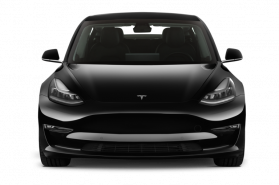 drive
RWD (Rear-Wheel Drive)
transmission
5-speed automatic transmission
User Reviews of Tesla Model 3 2020
Customer Ratings
This score is awarded by CarsNg from the collective ratings average of the customers

CarsNG Score
This score is awarded by our team of expert reviewers after extensive testing of the car
Cars similar to Tesla Model 3 2020