Overview

(current)
Toyota Tundra 2020 in Nigeria
The 2020 Toyota Tundra comes in different body styles, this tundra comes with four doors the body style is call "CrewMax". These body styles also come with different wheel bases and bed lengths (5.5-foot short bed, 6.5-foot standard bed, 8.1-foot long bed). It comes with 18-inch steel wheels, matte black lower front bumper, tow hooks, keyless entry, heated mirrors, windshield wiper de-icer, dampened tailgate, cruise control, air-conditioning, 6.1 inch central touchscreen, rearview camera, etc. It comes with a 5.7 litre V8 which produces 381 horsepower and 401 pound feet of torque. It has a six speed automatic transmission which takes it from 0-60 mph in 6.7 seconds. It can go 18 miles per gallon of fuel. It is a big car no doubt, the ride is stiff and that is normal because it is not meant to be luxurious, it completely destroys any off-road terrain given hence the big V8 engine.
Show More
Do you want to be notified when a new Toyota Tundra 2020 is available for sale in Nigeria?
Enter your email below to receive a notification anytime a new Toyota Tundra 2020 is available for sale from verified dealers in Nigeria.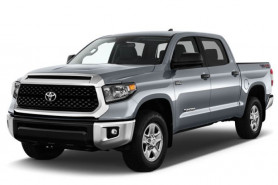 User Reviews of Toyota Tundra 2020
Customer Ratings
This score is awarded by CarsNg from the collective ratings average of the customers

CarsNG Score
This score is awarded by our team of expert reviewers after extensive testing of the car
Cars similar to Toyota Tundra 2020