Overview

(current)
Toyota RAV4 2006 in Nigeria
The Toyota RAV4 comes with a roomy interior capable of seating five to seven passengers although the interior design is not that high quality. This Sport trim level comes with 18 inch alloy wheels, sportier suspension tuning, foglamps, rear privacy glass, roof rack, cargo cover, air conditioning, cruise control, etc. It comes with a 3.5 litre V6 engine that produces 269 horsepower and 246 pound feet of torque. It has a five speed automatic transmission that goes from 0 to 60 in 7.2 seconds. It can go 22 miles per gallon of fuel. This is basically a budget car because the car has a simple design, has simple controls and lots of storage space.
Show More
Do you want to be notified when a new Toyota RAV4 2006 is available for sale in Nigeria?
Enter your email below to receive a notification anytime a new Toyota RAV4 2006 is available for sale from verified dealers in Nigeria.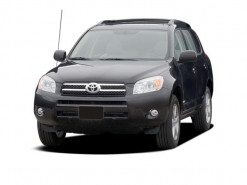 transmission
6-speed Automatic transmission
User Reviews of Toyota RAV4 2006
Customer Ratings
This score is awarded by CarsNg from the collective ratings average of the customers

CarsNG Score
This score is awarded by our team of expert reviewers after extensive testing of the car
Cars similar to Toyota RAV4 2006