Overview

(current)
BMW I3 2020 in Nigeria
The i3 performs well in IIHS safety testing, though it hasn't been evaluated for its headlights or front crash prevention. It does earn top marks in four out of five crashworthiness tests, with the only exception being the evaluation for head restraints and seats, for which it received a second-best rating of Acceptable. The i3 earns the same Acceptable score for its child seat anchor ease of use. No active safety features are included as standard, but the Technology + Driving Assistant package adds curve-adaptive LED headlights, stop-and-go adaptive cruise control, and auto high beams.
Show More
Do you want to be notified when a new BMW I3 2020 is available for sale in Nigeria?
Enter your email below to receive a notification anytime a new BMW I3 2020 is available for sale from verified dealers in Nigeria.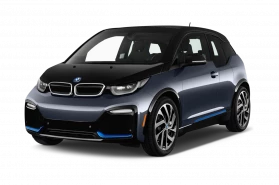 drive
RWD (Rear-Wheel Drive)
transmission
7-speed automatic transmission
User Reviews of BMW I3 2020
Customer Ratings
This score is awarded by CarsNg from the collective ratings average of the customers

CarsNG Score
This score is awarded by our team of expert reviewers after extensive testing of the car
Cars similar to BMW I3 2020