Overview

(current)
BMW 328i 2016 in Nigeria
The 2016 Mercedes-benz 328i is a trim level of the 3 series, it is available in sedan and wagon body styles. It's standard features are 17-inch alloy wheels, automatic headlights, LED foglights, remote keyless entry, push-to-start, automatic wipers, cruise control, "BMW Assist" emergency telematics, Bluetooth phone and audio connectivity, a 6.5 inch display, etc. The 328i uses a more powerful version of the 320i engine, which is a 2.0 litre turbocharged four-cylinder engine that produces 240 horsepower and 255 pound-feet of torque. As for fuel economy, it can achieve an average of 27 miles per gallon and can go from 0-60 in 5.4 seconds.
Show More
Do you want to be notified when a new BMW 328i 2016 is available for sale in Nigeria?
Enter your email below to receive a notification anytime a new BMW 328i 2016 is available for sale from verified dealers in Nigeria.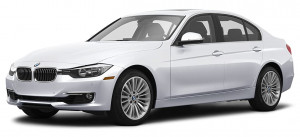 drive
RWD (Rear-Wheel Drive)
transmission
8-speed Automatic Transmission
User Reviews of BMW 328i 2016
Customer Ratings
This score is awarded by CarsNg from the collective ratings average of the customers

CarsNG Score
This score is awarded by our team of expert reviewers after extensive testing of the car
Cars similar to BMW 328i 2016