Overview

(current)
Acura Mdx 2020 in Nigeria
All versions of the Acura MDX perform well in safety testing. The IIHS gives the MDX Good ratings in all categories, except for an Acceptable headlight score. Its front crash prevention system fully avoided collisions in both 12-mph and 25-mph tests. The NHTSA gives the MDX a five-star overall rating. Every 2020 MDX comes with the AcuraWatch suite of safety- and driver-assist features. These include adaptive cruise control, lane-departure warning with corrective steering assist, blind-spot monitoring, forward collision warning, and collision mitigation braking. Rear cross-traffic alert and a surround-view camera system are optionally available.
Show More
Do you want to be notified when a new Acura Mdx 2020 is available for sale in Nigeria?
Enter your email below to receive a notification anytime a new Acura Mdx 2020 is available for sale from verified dealers in Nigeria.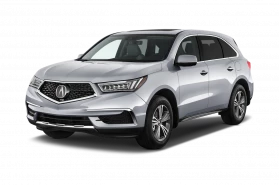 drive
AWD (All-Wheel Drive)
transmission
6-speed automatic transmission
User Reviews of Acura Mdx 2020
Customer Ratings
This score is awarded by CarsNg from the collective ratings average of the customers

CarsNG Score
This score is awarded by our team of expert reviewers after extensive testing of the car
Cars similar to Acura Mdx 2020